Client Alert
The National Transportation Safety Board ("NTSB") has found that a collision between a US Army BlackHawk helicopter and a recreational drone was caused by the drone operator's failure to see and avoid the helicopter and his lack of understanding of safe operating practices.
The collision occurred east of Staten Island, New York on September 21, 2017. According to the NTSB, a DJI Phantom 4 drone and a U.S. Army UH-60 ("Black Hawk") helicopter collided, causing damage to the helicopter's main rotor blade, window frame and transmission deck. A motor and arm from the drone, which is widely available to the general public, were recovered from the Black Hawk.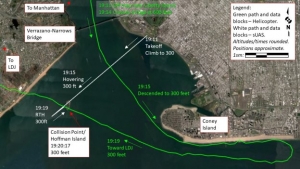 Flight paths of US Army UH-60 helicopter and DJI Phantom 4 drone prior to collision (NTSB)
Following its investigation, the NTSB found that the drone operator intentionally flew his drone over water 2.5 miles away from his location in Brooklyn, New York, well beyond his visual line of sight. Recreational pilots are expected to maintain visual contact with drones at all times and not to interfere with any manned aircraft. The NTSB determined that the probable cause of the collision was the drone pilot's failure to see and avoid the helicopter due to his intentional flight beyond visual line of sight. Contributing to the incident was the drone pilot's woefully incomplete understanding of regulations and safe operating practices.
The helicopter pilot saw the drone immediately before impact but lacked sufficient time to avoid the collision.
The collision took place in airspace subject to Temporary Flight Restrictions (TFRs) prohibiting drone flights due to the UN General Assembly and a Presidential visit to Bedminster, New Jersey. The drone pilot told the NTSB that he was unaware of the TFRs.
Although reported UAS sightings by manned aircraft are in the thousands, the FAA has yet to verify any collisions in the United States between civil aircraft and civil drones. Canadian authorities are investigating an October 12, 2017 collision in Quebec City, Quebec between a drone and Beech King Air A100 on final approach to Jean Lesage International Airport at an altitude of 1500 feet, causing the crew to declare an emergency. Aircraft rescue and firefighting services were deployed but the aircraft landed safely without significant damage. No one was injured.